Congratulations to our students of German and their teachers!
The Annual Awards Banquet took place on Friday, May 6, 2022 at the Norwalk Inn in Norwalk, CT.
The AATG thanks Kristin Haase, Lieselotte Sippel and Eileen Wilkinson, for organizing the banquet, and The Norwalk Inn for hosting the event.
The AATG/PAD National German Exam Scholarship was won by Asya Tarabar, Anna Pociu, Lily Watson
(Cheshire High School)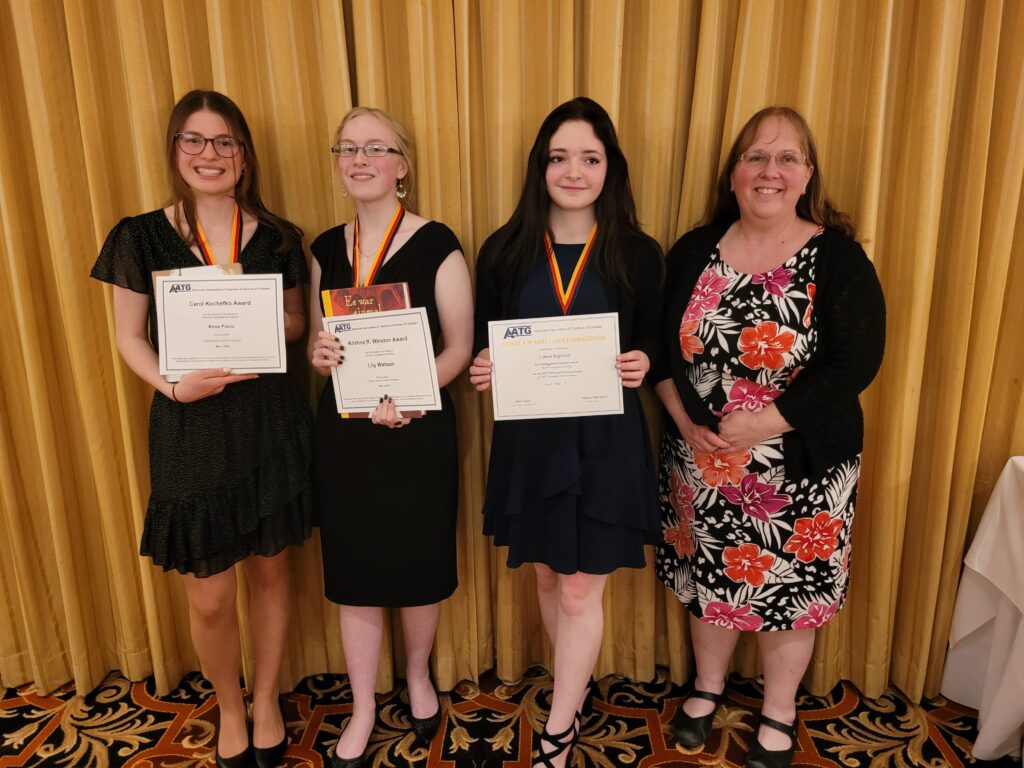 Students from Cheshire High School, German School of Connecticut in Stamford and West Hartford, The Hotchkiss School, and Wilton High School received Gold, Silver or Bronze level certificate for their achievements. Below you see Frau Kochefko Higgins  (middle) with students Lucia La Orden Oro, Chris McCann, Lukas Witzke, Frau Kochefko Higgins, Mia Elias, Thomas Fletcher (from left to right).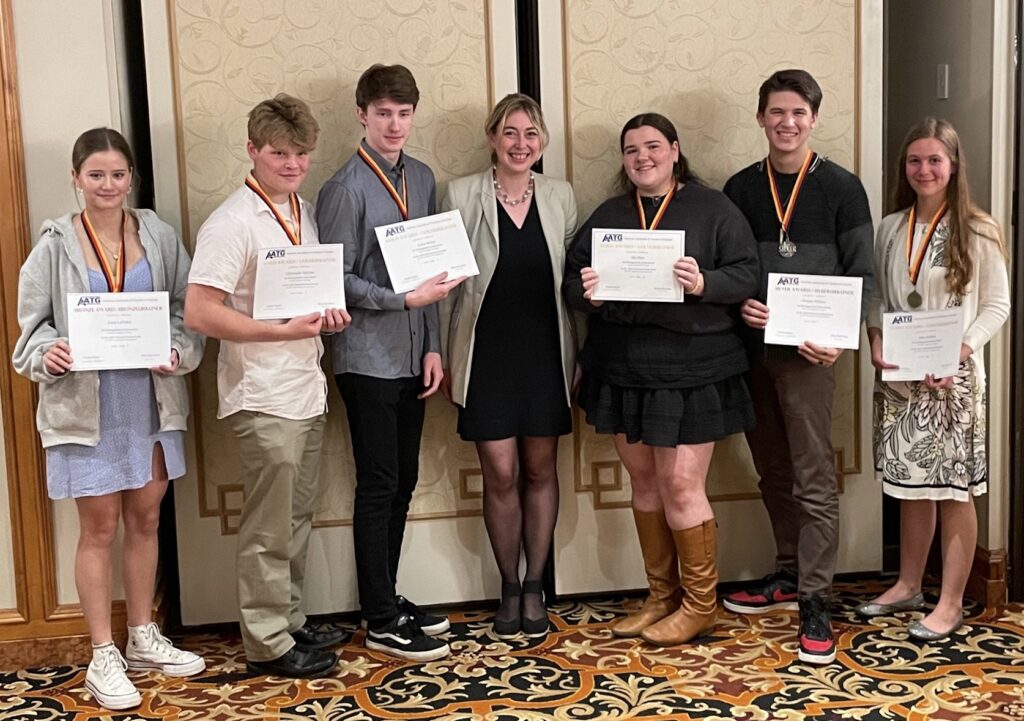 In addition to the certificates, five special awards were given to students for Excellence in the Study of German Language and Culture.

All five students study German at Cheshire High School, where Frau Haase and Dr. Gulielmetti are the German teachers.
Carol Kochefko Award—Anna Pociu
Krishna R. Winston Award—Lily Watson
Klett World Languages Award—Asya Tarabar
Zoltan Toman Award—Katherine Voong
Student Awards for Excellence in German were given to the following students.
Cheshire High School: Dr. Angela Gulielmetti & Kristin Haase, Teachers
William Borland, Marcus Haase, Ian Harrington, Michael Herscovici, Anna Pociu, Zachary Schnitzer, Haley Shaw, Taruni Singanamala, Lianna Sogliuzzi, Asya Tarabar, Tobias Tello, Katie Voong, Silas Wang, Lily Watson, Andrew Xu
German School of Connecticut, West Hartford: Christine Pajouh & Bärbel Roder, Teachers
Jolie Agban, Diego Gonzalez, Catherine and Sebastian Kohncke,  Amelie Lambert, Luka and Matej Mijanovic, Nadine Schmitt, Anselm Peters, Paul Sturm, Anna Maria and Daniela and Isabela and Nicolas Tippner
German School of Connecticut, Stamford: Dr. Eileen Wilkinson, Teacher
Robert Abele, Lucas Ausfahl, Hampton Bartos, Damon Bond,  Catherine and John Beckett, Gerhard Dobler, Luke Elmarsafy, Victoria Green, Andrew Gotlin, Bridget Hadden, Niklas Hofmann, Mika Hori, Elias Kasoff, Maximilian Lele, Josephine and Lucas Lewertoff, Alessia MacKinnon, Lukas and Nikolas Mischkulnig, Aedan and Dane Mitchell, Tessa Negri, Mia and Nico Nobile, Anne-Eva and Claire-Helene Ritter, Lukas Kemmerer, Julian Krotmeier, Jan Kuznik, Melanie Lahrkamp, Alexander and Caitlin and Eva and Sophie Lammer, Nadja Roesser, Johannes Schieker, Eliza Swaggert, Noah Tomasovic, Mark Wermuth
The Hotchkiss School: Marc Dittmer, Teacher
Brendan Bullock, Hongquan Chen, Yihan Ding, Zoe Froimovitz, Noam Ginsparg, Amelia Kain, Alan Lizatovic, Teddy Loescher, Siri Nellutia, Samarth Rastogi, Emmett Roswech, Mazie Witter
Wilton High School: Christine Kochefko Higgins & Matt Kelly, Teachers
Aislynn Conway, Mia Elias, Thomas Fletcher, Caelah Kennedy, Lucia LaOrden Oro, Christopher McCann, Cindy Rodriguez- Jimenez, Agni Tsirikou, Matthew Tully, Ryan William, Lukas Witzke, Daniel Zoubarev.